Recovery Plan for Upland Species of the San Joaquin Valley, California
Region 1 U.S. Fish and Wildlife Service
Portland, Oregon
---
---
Authors:
Daniel F. Williams1, Ellen A. Cypher1, Patrick A. Kelly1, Karen J. Miller2, Nancy Norvell1, Scott E. Phillips1, Cheryl D. Johnson1, and Gary W. Colliver1
Other Contributors:
Sam Fitton3 (draft San Joaquin Le Conte's thrasher account, review), Ross L. Goldingay4 (recovery strategy and criteria, review), Heather M. Bell 2 (draft kit fox account), Lawrence Saslaw 5 (draft San Joaquin Le Conte's thrasher account, review), and Mary Ann T. Showers 6 (draft palmate-bracted bird's-beak account)
1998
Approved: (Signature of Micheal J. Spear) Date: (Dated 9/30/98)
Michael J. Spear
Manager, California/Nevada Operations Office
Region I, U.S. Fish and Wildlife Service
---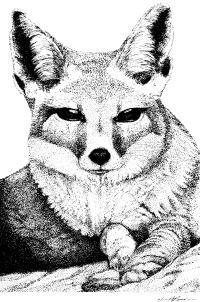 Drawing of a San Joaquin kit fox by
Kristina Bocchini (based on photo ©
by B. Moose Peterson)


This Recovery Plan is dedicated
to the memory of
Suzanne N. Nelson
Wildlife Biologist
San Joaquin Valley Endangered Species Recovery Program
October 1992-January 1996
---
---
Guide to Recovery Plan Organization
This recovery plan provides individual species accounts for all of the 34 species covered. Recovery strategies are organized by geographic area (or ecosystem area) whenever possible, thereby combining recovery tasks for multiple species. Because of the length and complexity of this recovery plan, an appendix is provided listing the common name and scientific name of all plants and animals mentioned in the plan (Appendix A). Technical terms are italicized and defined at their first use in the text and included in a glossary of technical terms (Appendix B).
U.S. Fish & Wildlife Service's Mission in Recovery Planning
Section 4(f) of the Endangered Species Act (Act) of 1973, as amended, directs the Secretary of the Interior and the Secretary of Commerce to develop and implement recovery plans for species of animals and plants listed as endangered or threatened unless such plans will not promote the conservation of the species. The Fish and Wildlife Service and the National Marine Fisheries Service have been delegated the responsibility of administering the Act. Recovery is the process by which the decline of an endangered or threatened species is arrested or reversed, and threats to its survival are neutralized, so that its long-term survival in nature can be ensured. The goal of this process is the maintenance of secure, self-sustaining wild populations of species with the minimum necessary investment of resources. A recovery plan delineates, justifies, and schedules the research and management actions necessary to support recovery of a species. Recovery plans do not, of themselves, commit manpower or funds, but are used in setting regional and national funding priorities and providing direction to local, regional, and State planning efforts. Means within the Endangered Species Act to achieve recovery goals include the responsibility of all Federal agencies to seek to conserve endangered and threatened species, and the Secretary's ability to designate critical habitat, to enter into cooperative agreements with the states, to provide financial assistance to the respective State agencies, to acquire land, and to develop Habitat Conservation Plans with applicants.
---
Disclaimer
Recovery plans delineate reasonable actions that are believed to be required to recover and protect listed species. Plans are published by the U.S. Fish and Wildlife Service, sometimes prepared with the assistance of recovery teams, contractors, State agencies, and others. Objectives will be attained and any necessary funds made available subject to budgetary and other constraints affecting the parties involved, as well as the need to address other priorities. Recovery plans do not necessarily represent the views nor the official positions or approval of any individuals or agencies involved in the plan formulation, other than the U.S. Fish and Wildlife Service. They represent the official position of the U.S. Fish and Wildlife Service only after they have been signed as approved. Approved recovery plans are subject to modification as dictated by new findings, change in species status, and the completion of recovery tasks.
Notice of Copyrighted Material
Permission to use copyrighted illustrations and images in the draft and final version of this recovery plan has been granted by the copyright holders in return for payment of a fee or commission or other consideration. These illustrations and images are not placed in the public domain by their appearance herein. They cannot be copied or otherwise reproduced, except in their printed context within this document, without the written consent of the copyright holder.
Literature Citation should read as follows:
U.S. Fish and Wildlife Service. 1998. Recovery plan for upland species of the San Joaquin Valley, California . Region 1, Portland, OR. 319 pp.
Additional copies may be purchased from:
Fish and Wildlife Reference Service
5430 Grosvenor Lane, Suite 110
Bethesda, Maryland 20814
301/492-3421 or 1-800-582-3421
The fee for the Plan varies depending on the number of pages of the Plan.

---
Acknowledgments
The recovery planning process has benefitted from the collaboration, advice, and assistance of many individuals, agencies, and organizations over the past several years. We thank the following people (Endangered Species Recovery Program staff italicized) and apologize to anyone who was omitted from this list inadvertently:
Michael Allenger, David Anderson, Richard Anderson, Carol Ashbrook, Bill Asserson, Glenn E. Basey, Ron Batie, Robert Beehler, Bill Berry, Roxanne Bittman, Ansel Tupper Blake, Dena Bos, Laurie Briden, John Brode, Jody Brown, Karen Brown, Nikolle Brown, staff of the California State University Stanislaus Foundation, Susan Carter, Kelly Chapin, Andrea Chapman, Thomas Charmley, David Chesemore, Steve Clifton, Johna Cochran, Charles Convis, Gene Cooley, Lincoln Constance, Bruce Cotterill, John Crane, Deborah Craghill, Peter Cross, James Curtis, Frank Davis, Mary Davis, Nettie DeBill, Carl Dealy, Bruce Delgado, Karen Doran, Chris Eacock, Nikki Eanni, Julie Eliason, staff of the Endangered Species Program at the Naval Petroleum Reserves in California, Joe Engler, H. Foote, Kathy Freas, Mike Fris, Nancy Frost, Dan Fults, David Germano, Virginia Getz, Theo Glenn, Rod Goss, Cay Goude, Elizabeth Scott-Graham, David Grubbs, John Gustafson, Laurissa Hamilton, Kristie Hammer, Rob Hansen, Deborah Hillyard, Graciela Hinshaw, Jay Hinshaw, Dale HoffmanFloerke, Gary Holmstead, Tim Holtsford, Mike Horton, Michael Hoover, Larry Host, Ann Howald, Donald, Hovick, Dennis Johnson, Charles Johnson, Heather Johnson, Steve Juarez, Karyn KakibaRussell, Thomas Kato, Joanne Kerbavaz, Marti Kie, James Killen, Sharon Kim, Jan Knight, Gail Kobetich, Peggie Kohl, Karla Kramer, Amy Kuritsubo, Kathy Lamb, Alan Launer, Bill Lehman, Kirk Lenington, Joshua Lerner, Dick Lewis, Russ Lewis, Jim Lidberg, Harvey Lopez, Bill Luce, Jill Lujan, Jesus Maldonado, Anthony Mann, Richard Marovich, Robert May, Shirley May, Susan Mazer, Mark McFall, Greg Mensik, Stephen Meyer, Diane Mitchell, James Morefield, Sandra Morey, Steven Morey, Ted Murphy, Suzanne Nelson, Tony Nelson, Ivana Noell, Lee O'Brien, Sue Orloff, James L. Patton, B. Moose Peterson, Dale Pierce, Martin Potter, Gail Presley, Ted Rado, Galen Rathbun, Rhonda Reed, Ron Rempel, Rebecca Roth, Mike Sebhat, Tamra Sandoval, Paula Schiffman, Jan Scow, Jerry Scrivner, John Shelton, Jeff Single, Mark Skinner, E.L. Sleeper, David Slibsager, Bronda Smith, Scott Snover, Pete Sorenson, Kenneth Spencer, Linda Spiegel, Bill Standley, John Stebbins, Wendy Stevens, David Stoms, Stephen Tabor, Dean Taylor, Sherry Teresa, Reed Tollefson, Terrence Trasatti, Robert van de Hoek, Callie Vanderbilt-White, Gay VerSteeg, Norman Vulich, Gary Waldron, Gregory Warrick, Wayne White, Darrin Williams, Sue Williams, Scott Wilson, Georgia Woodward, Sonja Yoerg, Dana York, Richard York, Gary Zahm, T. Zikratch.
We thank the following companies and organizations for grants and donations:
California Natural Diversity Data Base, Environmental Systems Research Institute, ERDAS, GTCO, Hewlett-Packard, Iomega, Microsoft, Monterey Fish Company, Recreation on Wheels, the Smithsonian Institution's National Zoological Park Conservation and Research Center, Trimble Navigation, and the World Wildlife Fund.
We extend special thanks to Karla Allred, Brian Cypher, Hugh Possingham, and Katherine Ralls, to current and past staff members of the Endangered Species Recovery Program for their significant contributions to this recovery plan, and, additionally, to Rosalie Faubion and Ron Schlorff for championing the Recovery Program and all that that has entailed.


thrasher